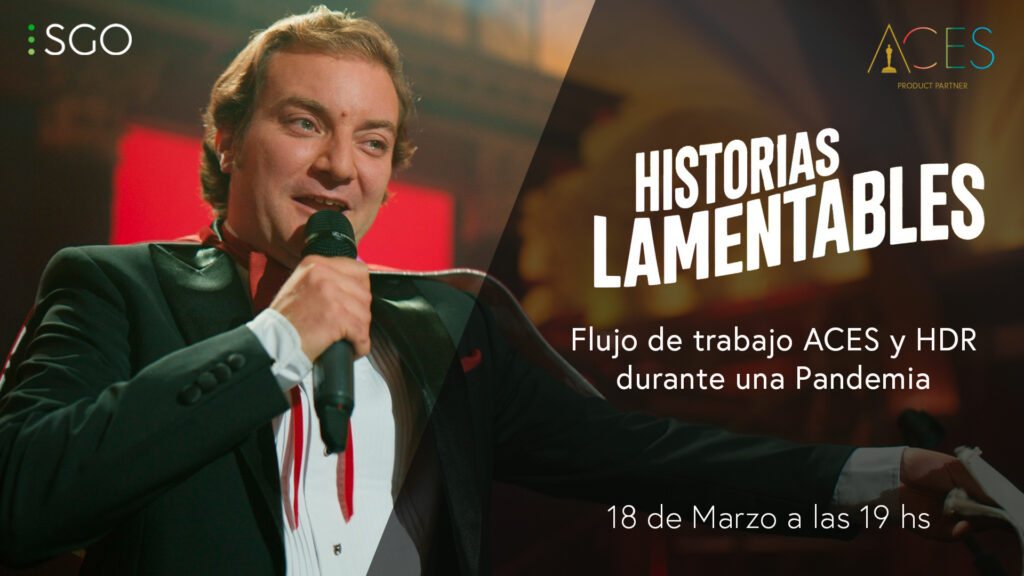 Below is the Presentation Deck from the webinar. Lots of workflow and other diagrams and sample photos…very helpful and complete! Will post English subtitled video as soon as it's available.
---
Register now for this free online event!
https://us02web.zoom.us/…/reg…/WN_0kMAeBXXRfurHh-bbfxGOA
(from SGO press release):
Aqui esta en espanol: https://www.sgo.es/historias-lamentables-evento/
SGO, an ACES product partner, is delighted to announce an exclusive online event A Conversation on ACES, HDR and Creative Flexibility During a Pandemic for Amazon's Show "Unfortunate Stories", taking place on Thursday, 18 March 2021 at 7 PM (Madrid time, 11 AM Los Angeles time)
At this exciting panel discussion with the filmmakers, you'll have a chance to learn how to prepare a future-proof (post)production pipeline, design a workflow that prioritizes integrity and exchange of media in a non-destructive way, providing the flexibility to handle any challenge… even a pandemic.
We will explore how different departments adapted to maintain technical standards working from home and how they even exceeded expectations: a project mastered in HDR that was initially going to be released in theaters.
At the session, presented in Spanish language, we will have the pleasure of hosting:
● Lucas G Mendoza Saugar, DIT
Beginning his professional career 18 years ago as an event photographer, video editor and graphic designer, Lucas began his DIT role in 2012, gaining extensive experience and knowledge of all types of digital cameras, workflows and the latest software in dailies and color correction.
● Francisco Ramos Howell, post-production workflow design
Professional colorist and HDR Workflow specialist with more than ten years of experience in the industry. Francisco, also known as "Paco" marked his path as a Mistika Senior Colorist & Online Stereographer at Sky UK. During the past four years, Paco has been working as a Freelance artist, designing ACES color workflows for Films like "Unfortunate Stories" & the Netflix Series "Hache". Paco is very involved in educational initiatives and helps to expand the Spanish knowledge base in offering ACES, SDR & HDR Color Management training for companies in Spain.
● Susana Muniaín, Colorist
Color Artist since 2005, also known for her work as a director, VFX and creative, Susana has worked in large-scale productions and indie cinema as well as in some of the most popular TV series in Spain. She also participated at numerous documentaries that were officially selected at national and international festivals.
● Ferran Piquer, VFX
VFX Supervisor with more than 20 years experience and has worked on more than 80 films. Piquer has been nominated for the Gaudí Awards and won two Goya's in the special effects category, and two awards for best technical execution in professional production. Some of his most recent projects include 30 Coins by Alex de la Iglesia for HBO, Historias Lamentables and Champions by Javier Fesser and Adú by Javier Calvo among many others. Currently, he is a Project Manager and VFX Designer at Dare Planet Studios.
At the event, we'll also have the pleasure of hosting one of key figures in the industry, Joachim Zell, ACES Project Vice-chair. Panel discussion will be moderated by Pedro Alvera, a professional with more than 15 years of experience and a co-founder of finalcutpro.es.
— Please note: This event is presented by an independent party, not by the Academy of Motion Picture Arts and Sciences. This independent party is wholly responsible for the content presented. —